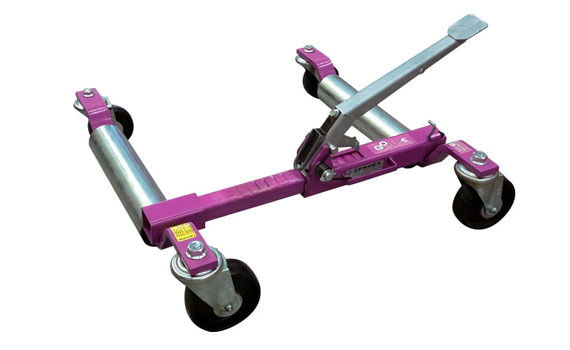 Model # GOJ-6313
GoJak® MODEL 6313™ – Vehicles to 6,300 lbs.;
For tire widths up to 13" – In stock Left and Right
The Model 6313 is extremely robust, able to jack vehicle weights to 6,300 lbs. (1,574 lbs. per wheel), including light-duty trucks with tire widths up to 13 inches wide and 36 inches tall.
This auto jack/dolly is the most versatile and strongest GoJak® in the line. It has steel rollers, wider axles and two heavy-duty 5-inch diameters, and two heavy-duty 4-inch diameter, double-ball raceway casters. This combination makes for easier rolling with heavier loads.
The Model 6313 has a 5-degree offset pedal for additional foot-to-tire clearance. The underframe clearance is increased an additional 2-1⁄2 inches over the GOJ-5000, which is very useful when pulling cars up flatbed trucks. Available in left and right-hand units.
Also Available:
Model # GOJ-0456
GoJack Rolling Storage rack