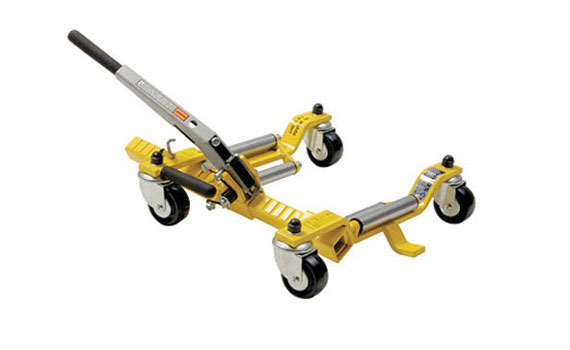 Model # GOJ-4100
The "FASTER CASTER" GoJak® MODEL 4100™ 
Ideal for  Aircraft and other vehicles to 4,100 lbs. and tire widths to 7".
Finally, here it is a hangar self-loading wheel dolly, designed specifically to fit gliders and light aircraft's smaller wheels. The GOJAK Model GOJ-4100 wheel dolly's special angled jacking lever works with most glider types.
The efficient and quick action double pawl ratchet mechanism to progressively "squeezes" the tire between two rollers until the tire is lifted off the ground. The GOJAK Model GOJ-4100 is the perfect tool for self-loading smaller wheel assemblies, primarily found on light aircraft. The extreme angle of the handle allows for maximum clearance from body parts and fender covers. Hand operation enables you to easily use it directly under wings where the pedal operation would be more difficult.
The GOJAK Model 4100 can handle wheel weights up to 1025 pounds, tires ranging from 7 1/2 to 22 inches in diameter, and widths up to 7 inches wide. The built-in linear ratchet provides smooth and controlled lifting and lowering of tires. The unit uses four, 3-inch double-ball raceway casters for effortless maneuverability.
In Stock Left and Right