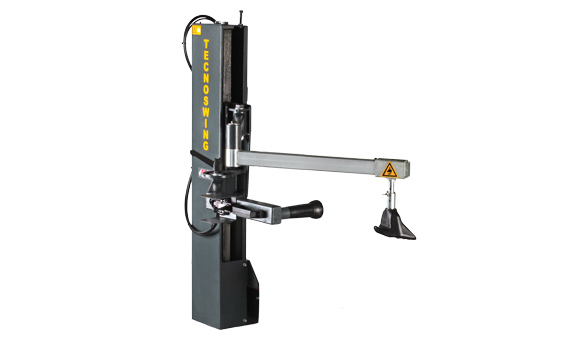 Model # TC-0300TS
Tecnoswing Optional Accessory For Use With Our Swing Arm Type Tire Changers
The Tecnoswing assist arm is an indispensable device for working on particularly hard and large-sized wide and low-profile tires (EMT, RFT, CRS, DSST, etc.). The tough structure is designed with an air cylinder that is not subject to deflection during heavy work operations. Easily fitted on all TC-0322IT and TC-0328IT model machines, which are pre-designed for the application.
Positions and holds the rim during the locking operation.
Maintains the tire bead in the rim well, facilitating extraction.
Allows the bead to be held in the rim well during mounting.
The roller arm has the ability to operate under the tire.