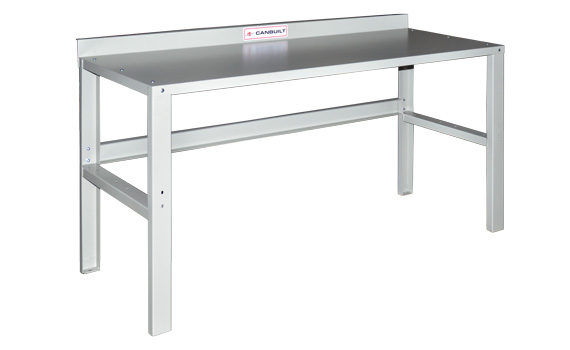 Model # WB-1-72
Canbuilt made Workbenches have the following features:
The workbench top is made from heavy (14) gauge steel
The top is formed into a "U" channel which can be wood filled for sound dampening or to mount vises and grinders on the bench
The workbench is designed to "lock together" to provide strength and rigidity.
Holes provided in "feet" to allow lagging into the floor
Units come complete with bolt-on back lip
Multiple units can be bolted together end to end for long workbench runs or Back to Back for deeper workstations
Canbuilt Workbenches are electrostatically painted (industry standard) mist grey and oven-baked for a durable finish.
Basic Workbench
Dimensions
Optional
1/2 Bottom Shelf
Drawer
Kit
Neoprene
Top Liner
Model: WB-1-48
Basic 4 feet
26″D x 48″L x 36″H
Model: WB-B-48
12″ x 48″
Model: WB-D
Model: WB-NL-48
24″x48″
Model: WB-1-60
Basic 5′ feet
26″D x 60″L x 36″H
Model: WB-B-60
12″ x 60″
Model: WB-D
Model: WB-NL-60
24″x60″
Model: WB-1-72
Basic 6′ feet
26″D x 72″L x 36″H
Model: WB-B-72
12″ x 48″
Model: WB-D
Model: WB-NL-72
24″x72″
Workbench Options Available:
1/2 bottom shelf: Model # WB-B-XX – (xx = length of shelf)
promotes good housekeeping and maximizes load capacity. The optional shelf is positioned high enough to allow the storage of a 5-gallon pail underneath. Order 1 for 1/2 shelf, 2 for the full bottom shelf.
Drawer Kit: Model # WB-D
(15 3/4″ W x 23″ D x 4″ H) comes complete with drawer sliders, Drawer Stop, and mounting hardware
Neoprene top cover: Model WB-NL-XX – (xx = length of bench)
(24″ x XX") protects any machined surfaces from damage, and also sound dampens. Impervious to gasoline and oils.
Wet bench kit: Model # WB-TBK-XX – (xx = length of bench)
bolts to the rear edge of the bench-top. Designed to contain fluids funnel them to the spigot to drain to the customer's supplied container. Includes side lips to contain fluid and load bolts for front legs to adjust tilt for flow. (Not available for 48″ bench)