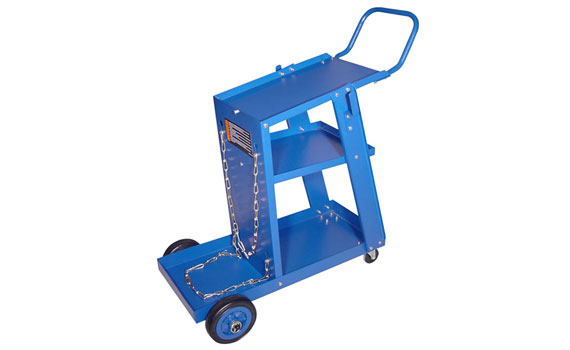 Model # GT-280
Ideal Cart For Body Shops To Mount And Transport MIG Welding Equipment, Smoke Machines And Gas Tanks.
Exclusive Heavy-duty, Blue powder-coated cart provides a useful work platform for holding welding tools, smoke machines, or other testing tools. Comfortable height for the technician, this mobile workstation allows him to be most productive.
A specially designed tray conveniently carries and secures the nitrogen tank. Extra lower shelf holds accessories, hand tools, and more.
Heavy Duty Steel Construction
Top Shelf: 17 3/4″ L x 11 1/4″ W
Middle Shelf: 15 1/4″ L x 11 1/4″ W
Bottom Shelf: 17 3/8″ L x 11 1/4″ W
Cylinder Shelf: 10 1/2″ L x 11 1/4″ W
Cylinder shelf holds from small to larger industrial cylinders
Rear Wheels: 6″ x 1 1/4″
Front Swivel Wheels: 2 1/4″ x 7/8″
Holds your small MIG welder, gas cylinder plus plenty of room for tools and accessories
Front handle for easy movement MIG gun and ground lead holders on sides
Cylinder holding chains Height: 24 3/4″
Easy to assemble