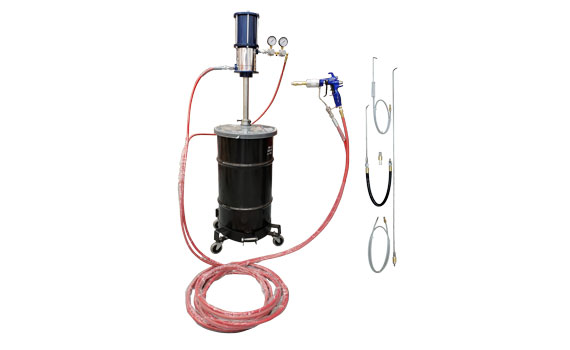 Model # LRP-2010K
Rustproofing Kit For a 60-L Keg
The LRP-2010K rustproofing kit system is the best technology for spraying inside doors, body cavities, and other hard-to-reach areas of vehicles, aircraft, industrial machinery, or military equipment. The LRP-2010K system uses an advanced design application gun for optimum control and speed. When combined with a range of accessories, such as the LRP-2152 wand kit, the rustproof system will deliver unparalleled coverage and productivity. When a direct airless spray is needed to cover underbodies, etc., simply remove the mixing cap from the gun and spray with the airless tip built into the front of the gun.
The 60-litre system includes:
15:1 Ratio Pump
Advanced application gun / Airless sprayer
25-foot twin hose, dual air regulators with glass face gauges
Adjustable 2" bung adapter for standard cover
Keg cover # LRP-18526
Keg Dolly # DD-5159
Note: Rustproofing media is not included.