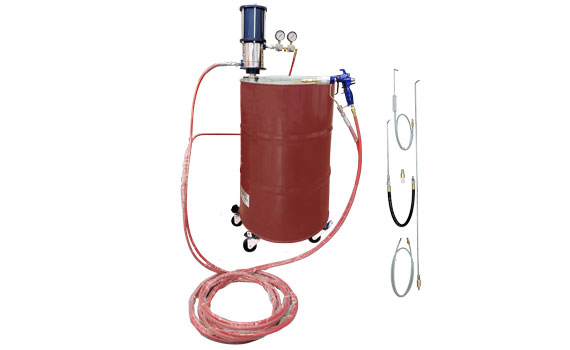 Model # LRP-2020K
The LRP-2020K system uses the same advanced design application gun for optimum control and speed as the LRP-2010K. The gun is designed to create a fog that penetrates those hard-to-reach places. It also is compatible with regular and water-based rustproofing products on the market.
Combined with the wand kit LRP-2152, the rustproof system delivers unparalleled coverage and productivity. The 4 wands allow you to reach every part of a vehicle's body effectively and without waste. When a direct airless spray is needed to cover underbodies, simply remove the mixing cap from the gun and spray with the airless tip built into the front of the gun to have greater coverage.
The LRP-2020K kit for 205 litre system includes:
15:1 ratio pump
Advanced application gun
25 ft twin hose
dual air regulators with glass face gauges
a standard 2″ bung adapter for 205 litre drum
and a 4-wheel drum dolly, Model# DD-45.