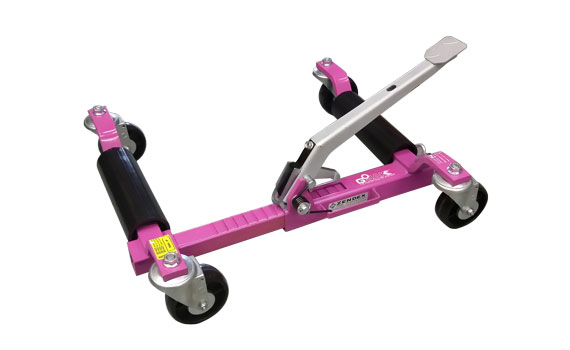 Model # GOJ-5211
THE "FASTER CASTER"
Ideal for Body Shops, Towing Companies, New Car Showrooms, Mechanical Shops, Parking Garages, and Classic Cars.
For tires Up to 11″ Wide and up to 34″ tall.
The Model GOJ-5211(L/R) is the workhorse of the GoJak® auto jack/dolly product line.
The basic self-loading dolly design was developed twenty years ago and the specifications have recently been improved from 5,000 to 5,200 lb capacity.
The GOJ-5211 Series GoJak® is a proven and reliable product that can lift and move wheel weights up to 1,300 lbs. (up to 5,200 lbs with four units). Capable of lifting tire widths up to 11 inches wide and up to 34 inches tall, the unit accommodates a very large percentage of the passenger cars and small trucks sold today. It uses a bi-directional linear ratchet for the jack portion and four 4-inch diameter heavy-duty double ball raceway casters.
Model # GOJ-5211: For tires to 11″ wide and 34″ tall
Order 2 for a pair, 4 for a set
5200 lb capacity (per set of 4)
LEFT AND RIGHT SIDES AVAILABLE
Also Available:
Gojak Rolling Storage rack
Model # GOJ-0456