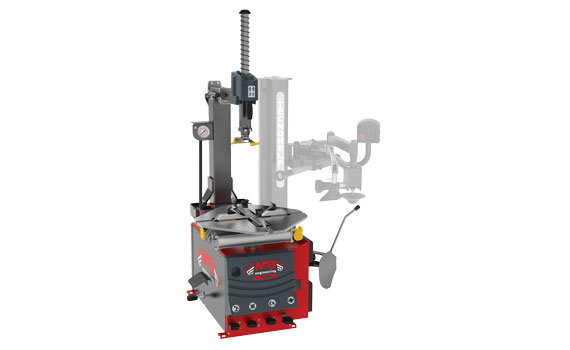 Model # TC-0724IT
We are introducing our newest tire changer to our line of Italian-made equipment, designed for precision and reliability.
The TC-0724IT is designed for neighborhood repair shops or for high-volume tire specialists. This changer handles all types of passenger vehicle tires in today's market with ease. The sturdy design handles the pressure from wide and low-profile tires with ease. It features a pedal that gradually increases the rotation speed of the table.
Additional features:
Hexagonal Vertical Arm: Our 41mm hexagonal vertical arm minimizes tolerances for precise and consistent performance.
Sturdy Horizontal Arm: The 60x60mm horizontal arm reduces flex, even with run-flat tires.
Locking System: Our simultaneous vertical and horizontal arm locking system, along with a spring return mechanism on the vertical arm.
Pneumatic Rear Tilting Post: Our equipment features a pneumatic rear tilting post with a reinforced base for maximum rigidity and stability.
Square Turntable: The square turntable securely locks up to 27 inches. Rounded corners make disassembly easy, and it includes an advanced system with opposing jaws and two Ø80 mm cylinders for optimal clamping force. The jaws have replaceable tips.
Ergonomic Bead Breaker: Effortlessly operate on wheels up to 17 inches in width with the ergonomic arm.
Maintenance Convenience: A removable pedal unit simplifies maintenance, with four front-aligned pedals for easy access.
Power and Control: The motor offers dual rotation in both directions and features a Motoinverter with gradual 0–16 rpm speed variation, using an in-house-produced board.