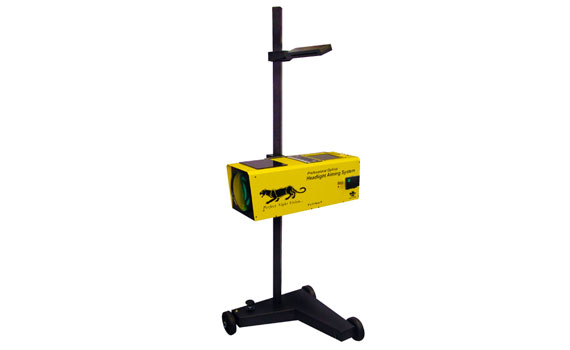 Model # OPT-5405
The Panther: Optical Headlight Aimer
"LA PANTHÈRE" Professionnel Système Modelo OPT-5405 optique de régulation de phares
Perfect Night Vision…
Vision Nocturne Parfaite…
The Panther Optical Headlight Alignment System is another innovative product from Canbuilt's professional line of products. The Panther Aimer exceeds (SAE J600) standards as required by all Canadian Provinces and US inspection facilities. Headlight alignment is accurately provided as required in Canada, USA, and Europe by the DOT.
The Panther is designed to work with all kinds of headlamps in cars, trucks, and busses including Xenon, LED and HID. Perfect to meet the needs of fleet maintenance operations, Collision, Auto & Truck repair shops.
Less than 5 minutes is required to check the headlight alignment of any vehicle. The Panther Headlight Alignment System is factory calibrated and ready to go, right out of the box.
Features:
Precision ground and polished OPTICAL GLASS Lens
Accurately Aims ALL Headlights including Xenon, LED and HID
Fully reinforced heavy-duty base for stability and repeatable accuracy
Versatile and compact design allows for Fast & Simple Operation
Easy to understand, Setup & Use
Works effectively with cars, trucks and buses, ALL Models, ALL Years
European Right Hand Drive Aiming Screens available
Linear lateral Alignment Visor
Built-in Pointer provides for accurate positioning of high mounted headlamps.
Laser-Guided Floor Slope measurement
Simple, Accurate, Bulletproof: No Gimmicks.
Click here to find out why not aim Headlights on a Wall or screen?
Optionally Available: (click on the Part number for picture)
Model # OPT-5500 Clear dust cover for the optical head
Model # OPT-5555 Optional Light Intensity Meter (not required for Provincial inspections)
Model # OPT-5560 Optional Laser Alignment Visor