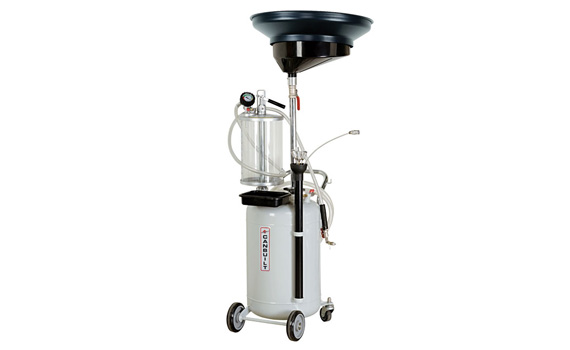 Model # DR-290VAC
2-in-1 waste oil drain & changer with an 8L vacuum chamber for fluid quality inspection.
Suited for gravity waste oil draining from engines, gearboxes, and deferential for all vehicles. Its transparent chamber allows for the visual inspection of fluids. The DR-290VAC is a completely mobile vacuum-charged unit. Includes probes with quick couplers for fluid extraction as well as adapters for BMW, Mercedes, and Volkswagen.
Mobile, adjustable, with self-evacuation features, makes emptying clean and easy to use.
90L/24 Gallon tank capacity
8L/2Gallon transparent chamber capacity
65-70L/17-18.5 Gallons of total suction capacity
100-115 PSI Vacuum pressure
1.5-2 LPM/ 0.4-0.5GPM Suction speed
18L Collection bowl capacity
16″ Collection bowl diameter
Maximum height: 66.9″
Minimum height: 39.4″
Drain pressure: 14.5 PSI
Air inlet connection:

1/4″ quick plug
1/4″ NPT female

6 1/2 ft. Suction hose length
6 1/2 ft. Drain hose length
Weight 90Lbs