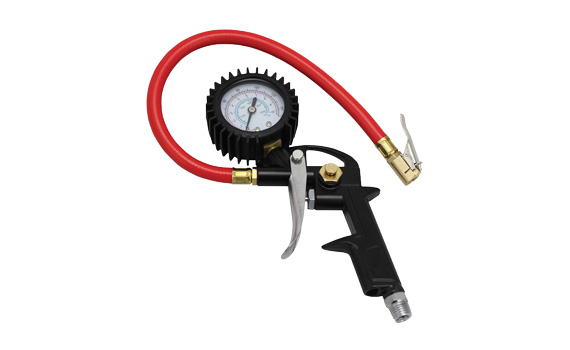 Model # DC-EX0500P
Durable analog inflator gauge, designed with a Pistol Grip inflation/deflation gauge complete with an air hose, easy-clip brass chuck, and integrated hang loop for easy storage. Made with a rugged cast metal handle is equipped with a solid steel inflation trigger and a separate brass deflation button for quick fine-tuning of target pressure. This gauge is fitted with a shock-resistant rubber boot which protects it from corrosion, impacts, and shocks. (NOT FOR USE ON PRESTA VALVES).
SPECIFICATIONS:
Gauge:
Resolution: 2 PSI
Diameter: 2"
Units of measure: PSI (0-150), kPa (0-1000), kg/cm2 (0-10), and Bar (0-10)
Handle:
Handle made of durable cast metal
Trigger: plated steel
Deflate button: solid brass
Hose: 1/4″ x 13″ rubber w/brass fittings
Air inlet: 1/4″ NPT male (Milton 728 plug recommended, sold separately)
DRIVE SAFELY:
Maintaining proper tire pressures improves vehicle handling, reduces the risk of tire failure, improves fuel economy, and increases the life of your tires.