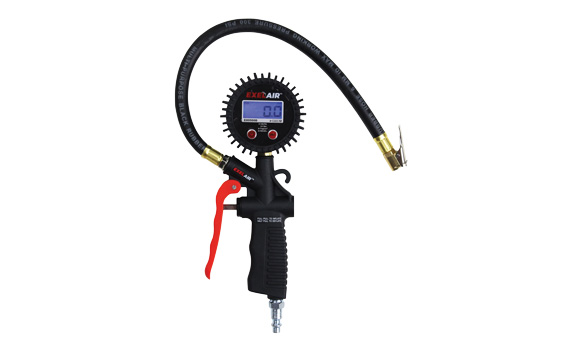 Model # DC-EX0500D
This digital gauge comes with an LCD screen measuring in increments of 0.1 PSI. It is backlit for better measurement reading in dark environments. Accurate digital readout to the 0.1 PSI with a 0-100 PSI range. Also reads in kPA (0-700), kg/cm2 (0-7), PSI (0-100), and Bar (0-7). Turns ON automatically when it detects air pressure and includes an Auto-shut off feature after 15 seconds to prolong battery life.
The durable 16″ rubber hose is rated 300 PSI. The easy-clip brass chuck at the end of the hose allows for one-handed inflation. Simply clip the chuck to your tire valve and adjust your pressure. Pull the combination inflate/deflate trigger fully to inflate, and "half pull" to deflate in case you pass/overshoot your target pressure. Designed with a coated nylon-molded handle for comfort, complete with an integrated hang loop for easy storage and access anywhere in your home garage or automotive shop, and fitted with a shock-resistant rubber boot that protects it from corrosion, impacts, and shocks.
SPECIFICATIONS
Gauge:
Resolution: 0.1 PSI
Accuracy: 1.0 PSI
Units of measure: PSI (0-100), kPa (0-700), kg/cm2 (0-7), and Bar (0-7)
Backlit, auto-on when pressure sensed, auto-off after 15 seconds
3-volt
Handle:
Handle: reinforced molded nylon
Trigger: reinforced molded nylon
Deflate: pull the trigger halfway to deflate
Product dimensions (w/o hose):9.5 x 4.2 x 1.86(L x W x H)
Hose: 300 PSI rated 1/4″ x 16″ rubber w/ brass fittings
Air inlet: 1/4″ NPT female, with M-Style (R) plug included
DRIVE SAFELY: Maintaining proper tire pressures improves vehicle handling, reduces the risk of tire failure, improves fuel economy, and increases the life of your tires.