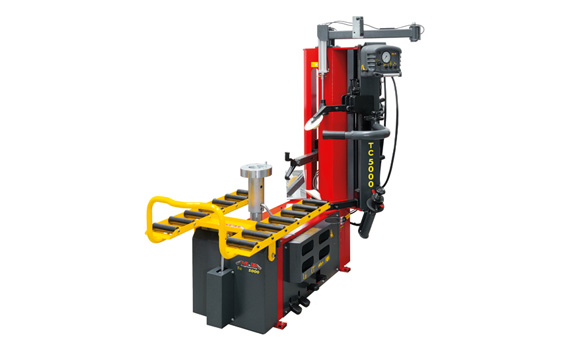 Model # TC-5000
Designed to work on high-end tires and rims, where quality trumps speed.
This machine uses coated and strong plastic tools to protect expensive aluminum and alloy tires on top-end cars. Engineered for working with an oversized, run-flat, low profile, and performance applications.
The TC-5000 comes with a wheel lift that faces a movable and adjustable chuck. When the wheel is tipped and positioned horizontally, the rim hole is always aligned with the centre of the chuck. This ensures quick and efficient handling of heavy wheels.
Bead breaking is achieved with the combination of two roller arms and the rotation of the chuck. The two rollers are also used for mounting and demounting tires. A second arm is provided to simplify fitting operations (essential for large diameter wheels). There is also a third pressure point (mobile arm helper) that follows the rotation of the tire.
The mirror positioned opposite the operator provides an easy and practical way to monitor all the operations conducted under the tire.
The movable chuck is a totally new concept and includes an easy-to-use fixing pin. It has two height positions, which is essential when working on large-sized reversed-well rims.
The demount-mount tool in precision cast steel. It is completely coated with a special plastic material in order to avoid any damage in the case of contact with aluminum rims. It operates on the same axis as the chuck and enables the operator to constantly control its correct position and avoid errors.
The control panel is designed and constructed on ergonomic principles. All movements are activated with a single hand. The position of pedals and manual controls are conveniently located to maximize comfort and functionality for the operator.