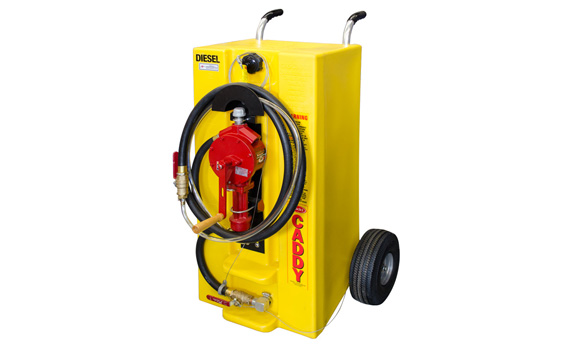 Model # FT-5325HVD
UN/DOT approved (UN3H1W) for diesel fuel handling.
This Evacuation Diesel Caddy – is the perfect solution for all your diesel transfer needs. With the ability to easily drain or fill gas tanks, this caddy is constructed of durable cross-linked polyethylene and holds up to 28 gallons. It comes equipped with an industrial grade 2-way rotary hand pump and a UL-approved 10′ hose with a ball valve and flexible siphon hose. The caddy is designed with easy grip handles and pneumatic tires, making it comfortable to handle and proportioned for optimal balance and movement. And, with UN and DOT approval (#UN3H1W), you can trust that it's the safest option for your needs. Whether you have a larger service area or need a reliable option for fluid transfer, this Evacuation Diesel Caddy is a perfect choice.
Used for removing, storing, and returning fuel to Fuel tanks during fuel tank service.
Polyethylene "No Rust" tank
10″ pneumatic wheels for easy maneuverability
Moulded-in-baffle for strength
28 U.S. gallon capacity
High-volume fuel transfer with 2 way manual pump
Manufactured with UN/DOT approvals (UN3H1W) and recognized by TSSA
NEWS ALERT: Many insurance companies are now insisting that an approved fuel transfer/storage tank be on-site and used in order for business insurance policies to be renewed.