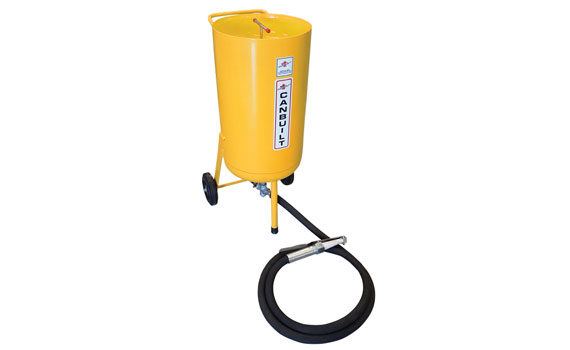 Model # PB-100
Ideal for use with many abrasives including Silica sand, Glass bead, Metal shot, Aluminum oxide, or Nutshells.
Pressure blasters are portable, rugged, efficient tools for removing dirt, paint, and other materials from various surfaces.
Pressure Blaster Features Include:
Funnel top filler cavity with unique removable filler plug
Abrasive flow control valve and air inlet shut-off valve
Pressure release valve for 125 PSI working pressure
Heavy Duty 8′ x 4 ply hose for long dependable use
1/8″ Ceramic nozzle with "Deadman" shut-off safety control
Media Capacity: 95 – 105 lbs
Designed for removing heavy dirt and rust.
Ideal for use with many abrasives.